NOVA BOATS
"Leading the Future in Boat Building"
www.novaboats.net
info@novaboats.net

Jose Abella (Founder)
Tel: (419) 768-6682
Cel: (305) 303-5978
15401 NW 33rd Place
Miami Gardens, FL 33054

ALL DEEP V HULLS ARE NOT THE SAME!
With Nova Boats Patented AquaGlide Technology, you will experience the following:
Gets on plane faster than conventional hulls
Patented hull design cuts through waves keeping the boat dry
Superior tracking during turns
Unique design handles rough seas without the pounding
Reaches higher speeds when compared to similar boats, power and conditions
Remains on plane at lower engine RPMs
Enhanced fuel efficiency
SPECIAL OF THE YEAR!!!
NOVA 39 SPORT - Fully Loaded Factory Demo, Twin Volvo D6 370hp Duo Prop Diesels
List Price $500,000 USD
Special $379,000 USD
Visit Nova Boats today and you will be sure to EXPERIENCE THE INNOVATION.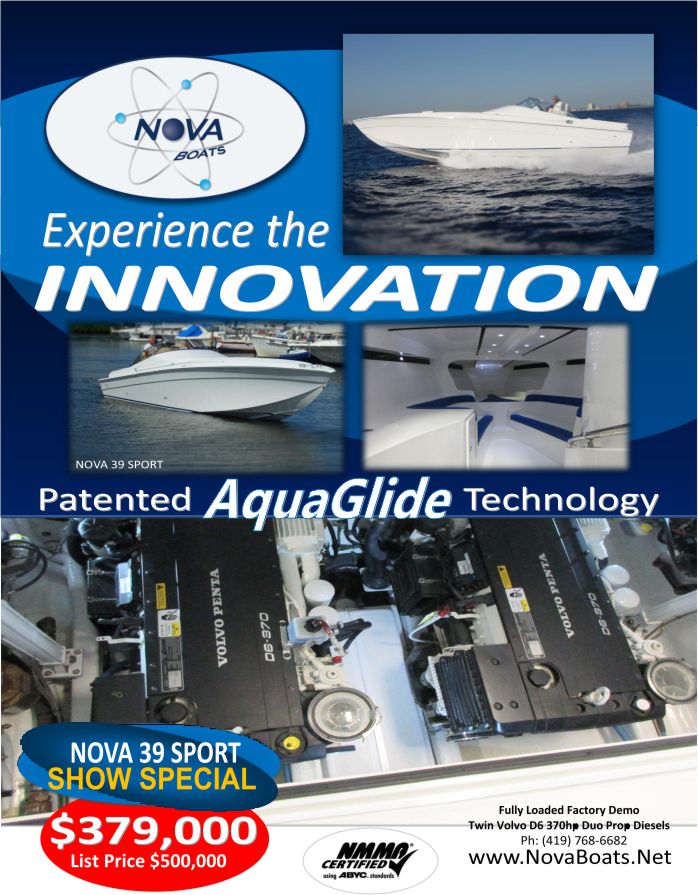 NOVA 39 OPEN - COMING SOON!